Another big "CONGRATULATIONS" to Andrea Pate on her second successful Pyrography Workshop at Stache Studios on September 29, 2018!
Once again, Andrea Pate, a very accomplished artist in art mediums such as portrait artistry and polymer clay modelling, has managed to spread the word about pyrography in downtown Griffin.  As her plan to continue on the workshop on Seasonal  Designs, all her attendees with big satisfied grins and new home decors.
"Leave a permanent impression with pyrography"
Andrea Pate
We at TRUArt are proud to be a part of Andrea's endeavors to teach others of the easy and fun-loaded art of pyrography or wood burning. The pyrography pens used in this workshop and the one before that were predominantly our (Stage 1) Wood and Leather Pyrography Pen. The artist herself has our robust 60 W Professional Woodburning Detailer.
We can't wait to check out what next season's theme is going to be permanently burned into wood again!
The TRUArt family extends its biggest "CONGRATULATIONS" to Andrea Pate for successfully hosting her first Pyrography Workshop at Stache Studios last August 18, 2018 and has effectively opened the doors to many budding artists looking for a unique and fun way to express their creativity!
Stache Studios, the go-to place in Downtown Griffin for learning various forms of art medium such as painting, ceramics, mosaics and clay works, graciously welcomed Andrea's suggestion to include a new form of artwork – pyrography. With Andrea's long history and connection to art since childhood, coupled with more than two years of pyrography experience, she deftly introduced and guided everyone into the practically new art world of wood burning. Needless to say, all workshop attendees left with proud smiles and their finished projects. Just check out the pictures below!
Andrea understands that pyrography isn't a medium that is well known in the field of arts. In fact, she did not imagine herself hosting any workshop about it at all – being contented with creating beautiful pyrogrphy art work and selling them. That changed when we started commissioning her to create tutorials for us using our wood burning pens. In one of the tutorials, she was teaching some children how to create wood burnings for their loved ones. Watching their excitement in the process got her curious about creating classes for adults. She wanted to expose as many people to this art form as she could. Thinking of ways to get pyrography out there, she came across her local art studio. Although Stache Studio provides customers with amazing pottery and painting classes, she realized they didn't have any on woodburning. In fact, there just aren't many places around where one could learn Pyrography.
"Leave a permanent impression with pyrography"
Andrea Pate
Jessica, owner of Stache Studios, loved Andrea's idea and immediately went to work to get things rolling while the artist provided the tools she got from TRUArt. After the resounding success of her first workshop, the artist was thrilled to see the excitement others were going through learning something she was passionate about. She feels very fortunate to have the opportunity to teach people pyrography and plans to continue sharing her expertise with more classes. As of this writing, she's been busy creating seasonal designs for her workshop that customers can display every month of the year in their homes. It definitely doesn't look like she plans to slow down one bit seeing that workshops are powerful tools to get the needed exposure to the art as people are starting to become familiar with it and with what she does.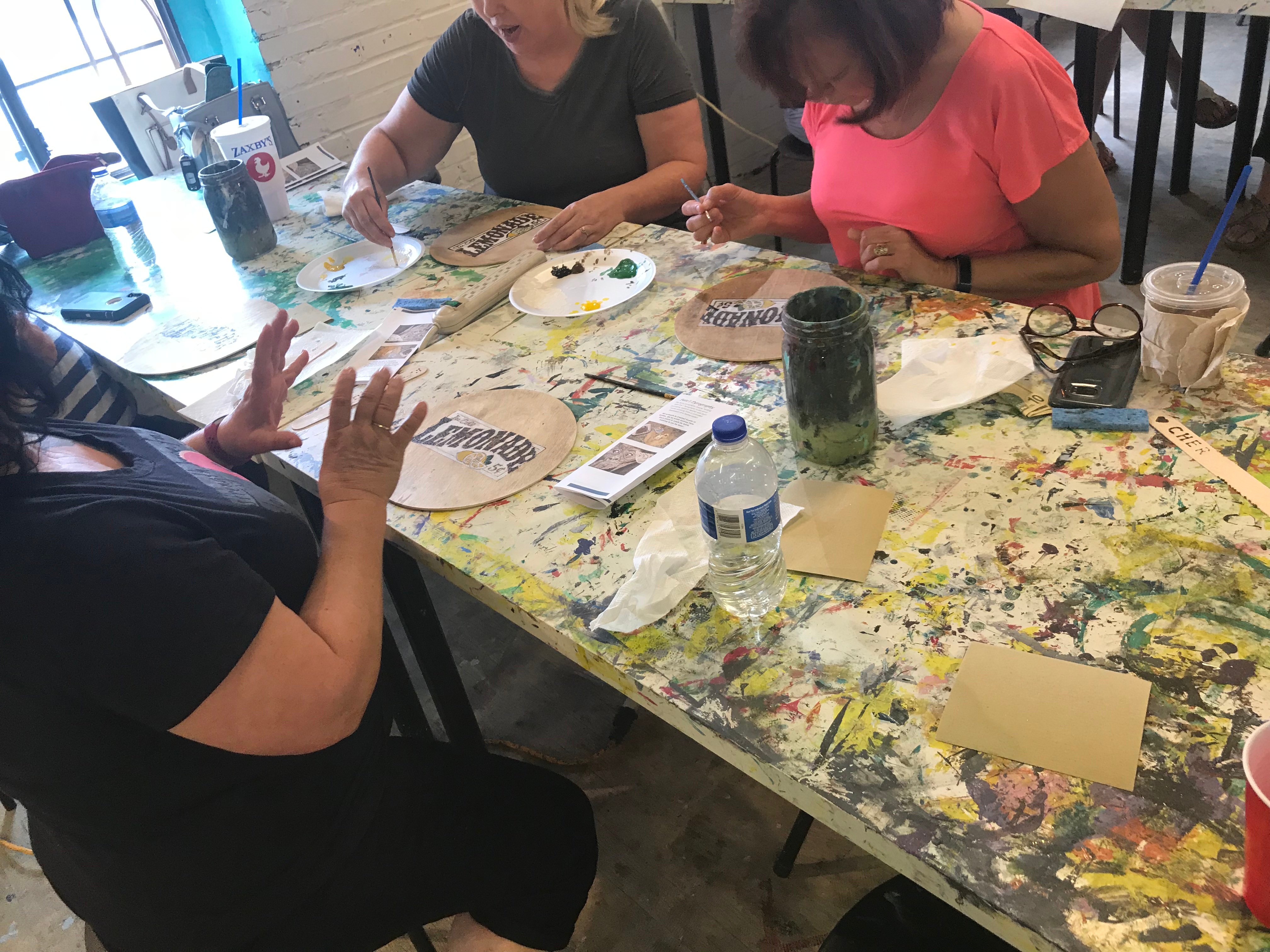 To those who have yet to touch a pyrography pen or to those who think they don't have the creativity for it, here's what Andrea has to say about it:
"DO not to give up. If it's something you're not good at, that's all the more reason to keep going. It will get easier and you'll learn what works for you along the way. If it's something you are passionate about then never give up.
It's amazing what you can learn and how you can improve in such a short time frame. I look back at where I started and to where I'm at today and there is such a huge difference. I'm excited to see how much I will continue to grow and improve over the course of this year."
We at TRUArt couldn't have said it better, Andrea. We're so glad and honored to be a part of your achievements in the wonderful world of pyrography. Thank you!